RSPCA
CONVICTED
CONVICTED | prolific backyard pet breeder Navdeep Singh aka Rozer Sandhu or Navdeep Singh Sandhu, from Davenport, Stockport, Greater Manchester – kept malnourished dogs and cats in appalling conditions.
Singh, a self-proclaimed TikTok star with a large following in his native country of India, pleaded guilty to seven animal cruelty offences in relation to several French bulldogs and Bengal cats found starved and neglected at his home.
The RSPCA had previously issued Singh with warning to clear up the yard and cattery and take one of the puppies to the vet, but he failed to take action.
RSPCA inspector Beth Fazakerley subsequently attended Singh's home with two police officers and found adult bulldogs Luna, Rocky, Daisy and Blue in the filthy yard. Four puppies, described as underweight and with bones prominent through their skin, were found hunched up among ripped up cardboard and faeces in the garage of the property.
Inspector Fazakerley also witnessed five cats housed in four separate rooms in a back garden aviary during a searing heatwave. Singh had also failed to provide the animals with clean water.
Inspector Fazakerley : "The first thing I noticed as I walked through the main door of the aviary was the extreme heat – within seconds I was sweating profusely and just walking around was uncomfortable.
"I took the temperature on my temperature gun and in the cleanest area for the cats it reached 36C. It was cooler in the rear, but there was virtually nowhere for the cats to lie down that was comfortable and clean from faeces and urine. Throughout the enclosure there was straw, piles of rubbish, empty bin bags, old food wrappers and a heat lamp switched on in a crate."
Another RSPCA inspector Heather Morris told the court that Singh had said he was "making large amounts of money" from his TikTok videos.
She added: "He said he was quite busy and was planning on selling the house as his relationship had broken down with his girlfriend. He admitted that he wasn't doing enough for the animals."
All of the animals were seized and taken to Greater Manchester Animal Hospital. Singh later signed over the puppies and and two litters of two kittens who were born after the cats were removed from the property.
A vet's expert report stated that all four of the puppies were very thin, scoring one out of nine on a body condition score when an ideal weight would be four or five.
The vet added: "It is clear the cats' accommodation was excessively hot and would have had a negative impact on these animals, particularly as they had no access to water.
"While the temperatures measured in the puppies' accommodation were within the acceptable range, French bulldogs are extremely susceptible to heat stroke due to their brachycephalic conformation and this can have a significant, negative welfare impact and even be fatal if left untreated.
"A number of the adults were seen panting and the original call to the police related to the dogs being distressed due to the heat. Brachycephalic dogs must be kept at cooler temperatures than other dog breeds. They should actively be kept out of the sun, have access to fresh clean water and ventilation, such as a fan."
Sentencing | fined £8,199.98 and ordered to pay the RSPCA's prosecution costs of £1,086.98. Banned from owning animals for six years
https://www.manchestereveningnews.co.uk/news/greater-manchester-news/self-proclaimed-tiktok-star-kept-26698533
RSPCA APPEAL
‼️ RSPCA Appeal ‼️ | Oldbury, Sandwell, West Midlands: dead dog carried into PDSA Pet Hospital in B&M bag after suffering 'horrific stab wounds'
The female bull breed dog was taken to the vet clinic on St Matthews Road B68 8AB by a man who claimed she had been hit by a car.
But the dog had actually suffered deep knife wounds all over her head, body and legs. She had also fractures to her ribs, skull and muzzle, and numerous areas of bruising including severe trauma to the abdomen resulting in the rupture of the intestines.
The man, who had carried the dog in a "blood-drenched sheet and a B&M shopping bag", left the clinic without leaving his name or details on Wednesday, March 29.
The RSPCA believes the dog had been stabbed – while alive – shortly before being handed into vets, and had died just before vets saw her.
The charity have appealed for information and are trying to trace the man.
He is described as black and aged around 20 to 30. He wore black trousers, a black jacket and a black cap.
RSPCA Inspector Boris Lasserre, who is investigating said: "The photographs and x-rays are horrific and clearly show the ferocious and sustained attack this dog endured before his death. We are very keen to trace whoever did this and would like to identify the person who took him to the PDSA between 9am and 10am on March 29.
"We understand the man carried the dog into the clinic having arrived there on foot so we would be interested in hearing from anyone who was in the area at the time or from any drivers who have dash cam footage. We also appeal to anyone who may have heard a dog screaming in agony on the morning of the 29 March.
"The nature of the wounds show the horrific mutilation of the dog was not post-mortem. Clearly this savage and prolonged attack led to the dog's eventual death.
"It is very important anyone with information contacts us in complete confidence on 0300 123 8018. This poor dog would have suffered a great deal in this attack and we would like to find out who did this to her."
https://www.birminghammail.co.uk/black-country/dead-dog-carried-oldbury-vets-26722336
CONVICTED
Backyard  breeder Susan Boobyer 52, from Bridgwater, Somerset – kept five dogs in cages with a lack of food, water and bedding.
Boobyer admitted to three animal welfare offences in relation to dogs Rex, Suzie, Foxy, Bella and Annie.
RSPCA Inspector Jo Daniel persuaded Boobyer to let her take two of the dogs, Rex and Suzie, to a vet on May 5, 2022, after the breeder had ignored repeated warnings to do so.
Inspector Daniel said: "Once the dogs arrived at the vet, Rex jumped into the sink, holding his nose to the tap and desperately drank the water provided – together with another three bows after that.
"Suzie also quickly drank a bowl of water, and both readily ate food offered to them.
"The vet who examined the dogs confirmed they were suffering."
Veterinary evidence showed that Rex and Suzie were both very underweight with their bones visible. They were also both suffering from dental disease.
Suzie, the mum of pups Annie and Bella, was also found to have discolouration of fur indicating flea allergic dermatitis.
Rex and Susie were seized by police and Boobyer was served with a further animal welfare advice notice, advising her that her remaining dogs needed to be provided with bedding and fresh water at all times.
During a follow-up visit on May 13, 2022 Inspector Daniel found an adult dog known as Foxy and two 10-week old pups shut in with several piles of faeces over the floor. Neither bedding nor water was available for the dogs.
Boobyer confirmed that the dogs had not seen a vet but refused to allow Inspector Daniel to take them to see one. Police were called and Foxy and the puppies were seized.
Foxy was found to have marked dental disease, while Bella and Annie were underweight with healing ulcers on their pads either from urine or faecal scale or being caged with inappropriate bedding. The puppies were also suffering from anaemia due to their parasitic burden.
The five dogs have been in the care of the RSPCA since they were rescued and will be rehomed soon.
Sentencing | 12 months in prison suspended for two years. Ordered to pay £600 costs and a £156 victim surcharge. Banned from keeping animals for 15 years
https://ukanimalcrueltyfiles.org/bridgwater-somerset-susan-boobyer/
https://www.somersetlive.co.uk/news/somerset-news/woman-who-neglected-dogs-banned-8239490
CONVICTED

CONVICTED | Emma Parker, 39, from Great Gonerby, Grantham, Lincs – cut her hamster in half while he was still alive, and was then filmed eating him
Stomach-churning videos of Parker cutting the hamster, Mr Nibbles, with a knife while he was still alive were circulated online, prompting an RSPCA investigation.
The videos filmed at Parker's home were sent to the RSPCA by a concerned member of the public.
Gordon Holt, prosecuting, said: 'The two videos seen on social media showed the defendant with a hamster in a hamster ball.
'The defendant is holding the ball with a knife in the other hand .
'She takes the knife and plunges it through the opening of the ball moving the knife from side to side.
'A spectator is heard laughing and says 'you are a sick b* you are.'
'The hamster can be heard repeatedly squealing, it is allowed to escape and runs around a while.
'The defendant attempts to strike it with the knife, successfully at least once.
'She pinches its neck to keep it still.
'It is still alive and she uses the knife in a chopping and sawing motion over the middle of the hamster's body.
'In the second video the defendant eats the two halves of the dissected body.'
During a police interview, Parker admitted the video was of her and claimed she was helping the hamster to die after it had been bitten by one of her dogs.
Parker refused to name those filming the footage, telling police: "They are not nice people".
In court, the mother-of-one admitted one charge of causing unnecessary suffering to a protected animal.
Chris Brewin, mitigating, said Parker had been targeted as a result of the video, with her home vandalised and dog faeces put through the letter box.
Passing sentence Judge James House KC told Parker he had to take into account that Parliament had recently raised the maximum sentence for such animal cruelty from six months to five years' imprisonment.
Sentencing | one year in prison. A 15-year ban on keeping animals.
https://www.dailymail.co.uk/news/article-11834919/Drug-addict-goaded-laughing-onlookers-cut-EAT-pet-hamster-jailed-year.
https://ukanimalcrueltyfiles.org/great-gonerby-lincolnshire-emma-parker/
CONVICTED
Callum Paramos, 21, from North Shields, Tyne and Wear – left an underweight dog unattended in an empty flat.
Paramos pleaded guilty to animal cruelty in relation to a skinny lurcher named Zeus kept in the kitchen of his flat in Seymour Street, North Shields.
RSPCA inspector Helen Bestwick described the scene in a witness statement to the court.
She said: "I immediately noticed a strong smell of urine."
"The dog was in a thin bodily condition and I could easily see its ribs, hips and spine. His nails were also long. The dog was bright, alert and friendly."
Inspector Bewick noted that the flat seemed to contain no personal belongings, suggesting that no one lived there.
She said: "The sofa had been chewed and shredded by the dog. In the kitchen there was a large bag of Wagg dog biscuits which looked like it was nearly full.
"There was a bowl of biscuits down and a paint tray being used for water. They looked like they had just been put there. I suspected the dog was regularly being left alone in the flat for long periods of time."
In a court statement a vet said that Zeus was 15% underweight, with his ribs, vertebrae and pelvic bones easily visible.
The vet added that the area where Zeus was kept was "littered with faecal material and looked to be wet".
In court, Paramos conceded that his care of Zeus had been inadequate.
Zeus was taken into the care of RSPCA Felledge Animal Centre, before being transferred to the RSPCA Bryn Y Maen Animal Centre, where he can now be rehomed.
Sentencing | 20-month community order with 40 hours of unpaid work; £100 in costs and £114 victim surcharge. Banned from keeping dogs for just two years.
https://www.chroniclelive.co.uk/news/north-east-news/north-shields-dog-owner-court-26420531
https://ukanimalcrueltyfiles.org/north-shields-tyne-and-wear-callum-paramos/
CONVICTED
Kyle Moore, aged 19, from Ellesmere Port, Cheshire – left a French bulldog puppy to starve to death in a filthy flat.
Eight-month-old French bulldog Coco slowly starved to death over several weeks after being abandoned by Moore. The callous teenager had been paid to look after the puppy by his sister, Leanne Griffiths, after she and boyfriend Jon Brookshaw (also pictured) moved out to set up home elsewhere. Backyard breeders Griffiths and Brookshaw were also prosecuted in relation to Coco's death and sentenced in January 2023. Details here:
Moore watched as the puppy became thinner and thinner while 'forgetting' to feed, water and walk her until she eventually died alone and in pain.
Her skeletal remains were discovered alongside children's toys and piles of rubbish by agents acting for the landlords of the flat in Birkenhead, Wirral, following complaints from neighbours about the smell.
Leanne Griffiths was later traced to her new home.
It emerged that she and Brookshaw had taken on Coco for breeding purposes, but when Griffiths moved out in March 2022 she refused to take the dog to their new home due to the puppy not being toilet trained.
RSPCA prosecutor Peter Mitchell said that police were called to a flat on Dorset Gardens on Old Chester Road in Birkenhead on May 12, 2022, following a request by the landlord Magenta Housing.
'They were due to carry out an eviction on this premises,' Mr Mitchell said. 'There was a strong smell and numerous flies coming from the flat.
'They entered the property whose registered occupant was Leanne Griffiths, who is the defendant's sister. There was no person present. However, it was discovered that there was a dog dead in the premises, a black and tan bulldog type dog.
The RSPCA was contacted and Inspector Anthony Joynes attended the same day.
Moore said he was going about two times per week to feed Coco, believing that his sister was going as well. He admitted he forgot to feed Coco 'quite often'.
The court heard that Kyle Moore, who was said to be on the autistic spectrum, knew the animal was "barely alive" but believed it was not his responsibility
After the case RSPCA Inspector Anthony Joynes said: It's hard to prepare yourself to walk in and deal with an incident where a dog has been starved to death.
'You know you can't do anything to help at that stage, and all you can do is remain professional and investigate the case to ensure that the animal's suffering does not go unanswered.
'I noted that the dog was wearing a collar with a tag containing the name 'Coco' engraved onto one side but it was far too big, providing some indication of how big the dog may have been at some point before losing body condition, as people generally don't put collars on their dogs that are far too big and can just slip off.'
'It remains one of the saddest sights I've ever seen in 14 years, Coco just lying there dead, emaciated and alone surrounded by children's toys and bits of rubbish, having been completely let down by the people she relied upon.'
Sentencing | 18 weeks' imprisonment suspended for 12 months; 15 rehabilitation activity days; 50 hours of unpaid work; victim surcharge of £154. Disqualified from owning an animal for the next five years.
https://www.dailymail.co.uk/news/article-11816257/Starved-death-Grim-photos-French-Bulldog-lying-dead-filthy-flat-abandoned.html
SCOTTISH SPCA
🐾 When our animal rescue officer, Catherine, attended to Piglet the seal she seemed sick and lethargic.
Piglet had been washed up on a busy dog walking beach in North Berwick after bad weather, and had a wound on her face likely caused by being hit against rocks. Her left eye also looked cloudy.
She was transported to our National Wildlife Rescue Centre where we noticed her front right flipper was also swollen and hot to touch. Her face was swollen with puncture marks and upon further examination her left eye turned out to be badly injured with an ulcer and conjunctivitis. She weighed just over 17kg.
After one month she was moved to our centre's outside pool but, after 21 days, she unfortunately needed to be brought back inside for further treatment as her eye appeared swollen and sore again.
After nearly three weeks, she was ready to be moved back outside for the last part of her rehabilitation. Piglet was then successfully released at the end of January weighing a very healthy 45.1kg!
https://www.facebook.com/136068831875/posts/pfbid02Erg6yE1ZFS5yharVmXRHuQr5qBtTdAE7mjiNe38MeMzAZ9JxF6M4Ht8Rs7a54fKcl/

SCOTTISH SPCA
Sadly, this seal pup had to be put to sleep after suffering a severe dog bite injury, including a broken jaw, at Newhaven Harbour, Edinburgh over the weekend.
Dog owners must be vigilant when walking their dogs in the area as the harbour is a busy location where seal pups are commonly found.
If you come across a seal while walking your dog please put your dog on the lead and keep your distance from the animal. If you have concerns about a seal please call our animal helpline on 03000 999 999.
https://www.facebook.com/scottishspca/photos/a.185990696875/10158712872301876/?type=3
SCOTTISH SPCA
? On Christmas day our teams successfully seized 24 dogs including 18 puppies.
These animals are thankfully now safe at one of our centres and receiving the medical attention they need.
We will always put Scotland's animals first, and are proud to be there for them 365 days a year. We couldn't do this without our amazing supporters.
❗This is an ongoing investigation so we are unable to share any more information at this time.
My puppy died days after I bought – I should've seen the warning signs at the breeder's house

After the death of my father, I thought a puppy would ease the grief and bring a note of cheer to an otherwise bleak Christmas
When the phone rang at 7pm, I knew something was wrong. The Day Vet always called in the morning and then again at 5pm before she left. She always asked the same question: 'Your puppy might pull through but we can't be sure. We can put her to sleep now or we can wait a little longer.'
I always replied with the same teary question: 'Is there still hope?'
And she repeated her usual words, 'There's always hope but another night will cost another £800.'
We weren't insured. Our beautiful blond puppy had arrived two days before Christmas and buying insurance had been the last thing on my mind. Not because my head was full of Christmas shopping or turkey recipes. But because I had just buried my father who had died, suddenly and unexpectedly, from a heart attack. His death had come a mere three weeks after the death of my mother's partner of 20 years. This was the end of the first year of the Covid-19 pandemic and, like many other families, we were reeling from a tsunami of loss.
My children had wanted a dog ever since our fourteen year old black lab died two years earlier. For months we'd been scrolling dog shelter sites, hoping we could rehome a dog. But this was the height of Covid canine madness and the only available dogs needed a calmer home than ours.
The RSPCA work alongside local authorities to combat malpractice among dog breeders in Britain CREDIT: Getty
I gave the name. 'Ah,' he said. 'Puppy farmers always go there. Cheap. No questions asked.'
I should have felt stupid. But I just felt unimaginably sad – for the families who's puppies had died, for all the dogs and puppies treated with such cruelty and contempt, and for little Sappho who I had failed to protect.
To my surprise, the RSPCA – working closely with the local trading standards officer and the Kent Police – nailed the real culprit with astonishing speed. Within days of my calls and emails, they uncovered a farm where 20 dogs and 10 motherless puppies were found – all now in good, loving homes.
And my family? We decided that if we ever took the plunge again we'd rehome a dog rather than buy a puppy. But never at Christmas.
In the aftermath of so much loss and rattled by grief, I felt a desperate need for new life. When my children suggested we buy a puppy, it seemed the right thing to do. A puppy would ease our grief, and bring a note of cheer to a Christmas that looked heart-wrenchingly bleak. For a few days we scrolled around on pet sites, oohing and ah-ing over tiny bundles of fluff. When we found a litter of golden retriever puppies not far from our home, I felt as if they had been dropped directly into our grieving laps.
The price tag was hefty so we agreed there would be no Christmas presents. The puppy was to be a family gift. And then we arranged a visit. Puppy farms were in the news, so we did all the things you're supposed to do: checked the breeder home (a cul-de-sac in a smart little village), asked to see the puppy at home with its mother, and checked there was vaccination paperwork.
With two of my children I drove to the breeder's home. Everything seemed perfectly normal – indeed the cul-de-sac of houses was so cramped it seemed unlikely anything illegal could ever happen beneath so many twitching pairs of curtains.
The breeder welcomed us into her kitchen which was completely taken over by a large lolling retriever, and her seven gorgeous puppies. The puppies were very docile but the breeder explained they were tired from playing in the garden all day. Eventually we chose one. She had a head shaped like an egg, huge liquid eyes and soft floppy ears. We called her Sappho, after my father's favourite poet. We were smitten. Suddenly there was a tiny beam of hope in our lives.
It was only when we got home that my youngest daughter said something I should have taken note of. It was the first hint of the horrors that were to unfold. 'The breeder's house smelled funny,' she said, wrinkling up her nose.
'Don't be silly,' I snapped, 'that's just puppy litter smell.'
'No,' she persisted. 'The smell wasn't right.'
My daughter had unknowingly recognised the distinctive smell of sickness. But I ignored her, paid the deposit and then went on a spree to the pet shop: basket, toys, puppy treats, blankets. Sappho would want for nothing.
Early warning signs
The day after my father's funeral, I drove pink-eyed, to collect Sappho. My son and eldest daughter came with me. The breeder asked us to wait a few moments while another family collected their puppy. From our car we watched as a smiling girl came out, cradling a blanketed puppy in her arms.
She and her father drove away, and suddenly it was our turn.
'She's the last to go,' said the breeder, tipping Sappho into my son's arms. She gave us a blanket bearing the mother's smell, a bag of dog food (one of the more up market brands – surely another sign that Sappho had been well-raised?) and the paperwork that showed our puppy had been vaccinated.
Things started to go wrong 10 minutes into our journey home.
'She's been sick!' yelled my daughter from the back seat.
'Travel sickness,' I replied. 'Probably her first time in a car.'
'But it's full of blood!' cried my daughter.
I pulled over and surveyed the bloody mess on my daughter's white top. 'Nerves,' I said, suddenly feeling very sorry for little Sappho, wrenched from her mother, her home. I called the breeder who breezily told me there was nothing to worry about, adding 'It's probably the worming tablet I just gave her
The puppies were very docile but the breeder explained they were tired from playing in the garden all day CREDIT: Getty
Little Sappho peered at me – and her eyes seemed full of sadness. Later, much later, I would understand that she was already unwell, already dying.
Over the next two days, Sappho grew more and more listless. We tempted her with morsels of specially poached chicken and liver. But she just looked at us with an expression I assumed was homesickness. She drank a little water, nibbled a corner of chicken, came out and sniffed the grass.
'Why won't she play?' asked my son, who had started sleeping on the floor beside her crate.
'I think she's got a tummy problem,' I said remembering all the stomach upsets our black lab had had as a puppy. 'I'm sure it'll pass.'
By now it was Christmas Eve. We took it in turns to sit with Sappho and rush her outside every time she vomited. But by Christmas morning I knew she needed a vet. Trying to find a vet on Christmas Day, with Covid surging, was almost impossible. But our nearest city had an emergency veterinary hospital and they agreed to see her. I drove over, handed Sappho through an open window to a masked nurse, and waited.
Eventually the nurse reappeared and said I could go home and the vet would call me, but that Sappho was to stay – in isolation. 'She might infect other animals,' explained the nurse.
'She's never been alone,' I sobbed.
Oh, the nurses will be with her,' said the nurse patting my arm. 'But the vet thinks she might have parvovirus – it's highly contagious.'
Anger and anguish
That was the last time we saw our puppy. For five days she was kept in the hospital and drip fed with antibiotics. Because of Covid, we weren't allowed to visit her. So when the phone rang at 7pm, I knew why the night duty vet was calling.
'I think we should put Sappho to sleep now,' said the vet. 'She's not going to pull through and your bill is nearly £4,000.' Later, she told me the whole litter had probably been infected and that every puppy was quite probably dead or dying.
The next day, in a sobbing rage of anger and anguish, I contacted dog charities, the police, the local trading standards officer, my MP. The RSPCA said they'd just taken another call about the same litter. As I sat in front of my laptop, furiously emailing, I noticed the vaccination paperwork on my desk. I looked at it, and saw that the breeder name and number were different from those of the breeder I'd bought Sappho from. I called back one of the charities I'd been talking to.
'What's the name of the vet who did the vaccinations?' asked the welfare officer.
I gave the name. 'Ah,' he said. 'Puppy farmers always go there. Cheap. No questions asked.'
I should have felt stupid. But I just felt unimaginably sad – for the families who's puppies had died, for all the dogs and puppies treated with such cruelty and contempt, and for little Sappho who I had failed to protect.
To my surprise, the RSPCA – working closely with the local trading standards officer and the Kent Police – nailed the real culprit with astonishing speed. Within days of my calls and emails, they uncovered a farm where 20 dogs and 10 motherless puppies were found – all now in good, loving homes.
And my family? We decided that if we ever took the plunge again we'd rehome a dog rather than buy a puppy. But never at Christmas.
*
*
*
Shocking video shows man stamping on dog 15 times after it soiled the floor
Congo was stamped on fifteen times as he cowered on the floorCredit: MEN MEDIA
A man from Wigan stamped on his dog fifteen times when it soiled the floor in what an RSPCA inspector described as the 'worst beating ever seen'.
Matthew Hurst brutally beat his dog Congo after it either urinated or defecated on the floor, Wigan Magistrates Court was told.
The 23-year-old was caught on video stamping on him with 'great force' while shouting 'what are you doing'.
The film then showed him grabbing the dog's head and slamming it into the floor as it cowered. A concerned member of the public passed the footage to the RSPCA.
Describing it as 'the worst' he had seen RSPCA inspector Ryan King said: "The video showed a man sitting on a sofa, watching a black bull breed dog either urinating or defecating on the floor."The man then stands up and proceeds to stamp on the dog with his foot around fifteen times with great force, shouting 'what are you doing'.
"He then reaches down to the dog, which is now lying on the floor, grabs it by the head and slams the dog onto the floor again with great force several times."This is the worst beating I have ever seen during my three years as a RSPCA inspector."
Vets who saw the video said Congo would have suffered 'fear, distress and pain' in the beating.
He suffered 21 blunt force blows to his abdomen, chest and head, though after an examination at the RSPCA's animal hospital he was found not to have had any serious physical injuries.
Hurst, of Bryn Street, Wigan, was charged with causing unnecessary suffering to an animal. Wigan Magistrates' disqualified him from keeping animals for ten years and handed him a suspended 16-week jail term.
He will have to undertake 20 rehabilitation activity requirement days, carry out 120 hours of unpaid work, pay £2,558 in court costs and a £120 victim surcharge.
The RSPCA will rehome Congo after Hurst signed him over to them.
*
*
*
Our hearts broke – neglected Chihuahua in need of corrective surgery after being found in Cornwall
Jerry is in need of corrective surgeryCredit: RSPCA Cornwall
RSPCA volunteers in Cornwall have spoken of how their "hearts broke" after they rescued a Chihuahua in a bad condition.
The little pup named Jerry walked "like a spider", due to his knees fusing in the wrong places.
Jerry was found alongside 17 other pets, including dogs, cats and exotic animals.
He now needs corrective surgery so he can walk again.
RSPCA volunteers in Cornwall have spoken of how their "hearts broke" after they rescued a Chihuahua in a bad condition.
The little pup named Jerry walked "like a spider", due to his knees fusing in the wrong places.
Jerry was found alongside 17 other pets, including dogs, cats and exotic animals.
He now needs corrective surgery so he can walk again.

Jerry walked like a spider because his knees had fused in the wrong placesCredit: RSPCA Cornwall
Jerry was found by the local inspectorate team in shocking conditions after his owner could no longer cope with him or the other animals.
On arrival at the rehoming centre, it was clear to the team that Jerry had severe issues and had a long medical journey ahead of him.
Sammy Howard, media, marketing and fundraising manager for RSPCA Cornwall said: "When we first saw Jerry, our hearts broke, he walked like a spider because his knees had fused in the wrong places.
"He would have struggled for years with his condition, we can only imagine the pain he must have been in.
"As sad as it is to witness, this only drove us to give him a better life, but, without public support, we cannot do this.
"We know times are tough, but we need financial support for Jerry to give him a normal life."

It is hoped Jerry can be given a new lease of lifeCredit: RSPCA Cornwall
After seeing a specialist vet, it was determined that he needed surgery on both of his hind legs and months of physiotherapy to ensure that his surgery will be as successful as possible.
RSPCA Cornwall in St Columb has set up a fundraiser to try and raise funds to give Jerry a better life.
The veterinary bill for Jerry is likely to exceed £2,000, but this will cover his initial surgery.
Any additional funds made will go towards his rehabilitation and supporting the other animals in RSPCA Cornwall care.
*
*
*
Man banned from keeping dogs after escaped pet found with horrific open wounds
Border collie Blackie was found with an open wound in her side. Credit: RSPCA
A man from Devon has been banned from keeping a dog for 10 years after he let his border collie suffer.
Rodney Blake, of Bedford Place in Horrabridge, was investigated and prosecuted by the RSPCA after the charity was contacted about his dog Blackie.
Blackie was found by one of Blake's neighbour's after she escaped from her home in March.
She had rotting open wounds and he said he could smell a "very strong smell of rotten flesh". She was later put down.
In a statement, the neighbour said: "The dog was still lying down and there was a very strong smell of rotten flesh coming from the dog. On closer inspection, the dog's fur was matted and knotted and tangled together.
"When we got right up close we then noticed that the dog's underbelly and side were ripped open and all her flesh was showing.
"Then we saw she was in a poor condition. Her claws were about two to three inches long. We were in a dilemma about what to do next and decided the best thing to do was to put the dog in a wheelbarrow as she could not walk and it was unkind to carry her because of the wound."
Blake, 64, admitted leaving his dog to suffer without desperately needed veterinary care between 6 February and 8 March.
He was ordered to play £250 in costs and a £128 victim surcharge. He has also been banned from keeping dogs for 10 years. He was also given a 12-week prison sentence, suspended for 12 months, after appearing at Plymouth Magistrates' Court on 7 November.
Blackie was taken to the vet by Blake where she was put down to prevent her from suffering further.
After the sentencing, RSPCA inspector Claire Ryder said: "Our plea to all animal owners is to make sure they always receive care and treatment from veterinary experts when they need it.
"Pets are completely reliant on their owners to ensure their needs are met and they are kept safe and healthy. Owning an animal is a privilege and ensuring appropriate veterinary care is a key part of the responsibility we have towards our pets.
"It's so sad that, in this instance, that responsibility was not met and Blackie suffered as a result."
*
*
*
Bolton: RSPCA appeal after bulldog's battered body found
A dog was battered suffering a skull and jaw fracture before being dumped in a push chair in Bolton.
The RSPCA has released pictures of the XL American bulldog which was found dead in Deane at the end of last month as the animal charity launches an urgent to find the person or people responsible for the brutal attack against the dog.
The dog was found by refuse collectors in an alleyway between Jauncey Street and Parkinson Street on Thursday, September 29 2022
Scans of the deceased animal showed that it had suffered a significant skill fracture and a jaw fracture, which appear to have been the result of him being subject to a blunt force trauma to the head.
The local council's dog warden team contacted the animal charity, who made door-to-door enquiries in the area and is now appealing for anyone with any information to get in touch.
The dog's body was wrapped in a light brown blanket and placed in a 'Kinderkraft' pushchair.
It was found next to a bin bag, which had been filled with dog biscuit wrappers and foam ripped from a dog bed.
RSPCA animal rescue officer Jess Pierce took the dog's body to the Greater Manchester Animal Hospital where X-rays revealed the extent of his injuries.
She said: "It was first thought that the dog had been in a road traffic accident, but his only injuries are to his head and the X-rays showed a nasty skull fracture and broken jaw.
"It does look like the poor dog has been the victim of a violent attack.
"We are hoping people will come forward with any information they have on how this may have happened and how the dog's body came to be in this pushchair left where it was.
"We are keen to hear from anyone who knows of a person who had a dog of this description which is no longer in their care. All information will be treated in the strictest confidence."
The bulldog was white with grey/dark grey markings. He was around two years old and was not neutered or microchipped.
Anyone with any information is asked to ring the RSPCA appeals line on 0300 123 8018.
For more information about the RSPCA or to support their efforts in rescuing, rehabilitating and rehoming animals in desperate need, visit www.rspca.org.uk or call the donation line on 03001238181
*
*
*
Hull woman stabbed and strangled Yorkshire Terrier to death

A 47-year-old woman from Hull has admitted killing her Yorkshire Terrier after stabbing it multiple times.
Patricia King pleaded guilty to causing unnecessary suffering to her dog at Hull Magistrates Court.
Louise Freeman, prosecuting for the RSPCA, told the court that on 7 February, 2022, King stabbed and strangled Pepper to death.
Ms Freeman told the court: "A post-mortem report also showed strangulation.
"The cause of death was likely due to the stab wounds, but suffocation was not ruled out. Prosecution states the case is high culpability."
High culpability is described as having foresight of or being wilfully blind to risk.
However, Ian Phillip, the duty solicitor, argued it it could be a low culpability case due to King's mental health issues.
King had been suffering from mental health problems at the time of the offence and had been admitted to a mental health facility, the court was told.
Solicitors agreed that meant King was not in the right state of mind.
The court adjourned the case so that the probation service could produce a report ahead of sentencing.
King was asked to speak with the probation service to set up an appointment for the report after the hearing concluded.
The report will be an expert assessment of the nature and causes of King's behaviour, the risk she poses and to whom, as well as an independent recommendation of the sentencing options available to the court.
King pleaded guilty in court. She will appear in court again on 15 December.
*
*
*
Fireworks are harming our pets
In 2021 we launched our impact reporting survey, encouraging the public to share with us their experiences of fireworks. Between October and January, we received around 11,785 reports of animals in distress. Fireworks have an impact on owners and their animals, all desperate for the unpredictability of fireworks to stop.
Most reports are from private displays
Organised local events will generally receive prior notice through advertising and word of mouth. The timings for these events are also arranged within a timeframe to attract families.
Sadly, private displays are much more unpredictable and harder to regulate. It becomes impossible for neighbours to prepare their pets, horses and livestock properly.
68% were animals impacted by private at-home backyard displays
94% didn't have prior notice of fireworks displays nearby
19% were animals in distress as a result of antisocial behaviour
Calm your pet during firework nights with Classic FM
69% of UK adults with a pet take at least one measure to help relax or prepare their animal for firework season.
Playing relaxing music is the most common. It shows why our partnership with Classic FM's pet classics is such a massive hit.
Change firework regulations to protect animals
We want to see fireworks regulations changed to protect our pets, wildlife and farm animals. We're not calling for a ban, simply tighter regulations and consideration of others.
We'd like to see the UK Governments follow Scotland's lead and introduce legislation for the following:
Limit the sale of fireworks for Bonfire Night from 29 October to 5 November and limit the days they can be let off. At present fireworks can be sold from 15 October to 10 November and this can prolong the period when fireworks are let off. The restrictions for the sale of fireworks for other traditional dates are only a few days.
Introduce firework control zones to provide better protection to vulnerable people and animals. Such zones are used elsewhere in the world. We feel they could be used effectively to protect animals, in particular in localised areas. An example is no fireworks being allowed near where horses are kept, sensitive wildlife areas, farms or zoos.
Introduce a licensing system for the purchase and sale of fireworks by and to members of the public. This would place a sensible limit on access to fireworks. It'll require those wishing to purchase fireworks to attend a training course, improving safety and awareness of their impact. We'd like to see the impact of fireworks on animals and people form part of any training course.
Reduce the maximum permitted noise level of fireworks for public sale from 120dB to 90dB. Setting the limit at 90dB would be consistent with the approach in other countries. It'll encourage manufacturers to design and produce quieter fireworks. We welcome the Office for Product Safety and Standards commissioning research into the noise levels of fireworks currently being sold to the public and look forward to seeing the results.
Scared to death
Two horses were scared to death in their paddock after trying to escape fireworks. Sprite was found collapsed in sweat and suffering from colic, despite having no history of it. He was unresponsive and had difficulty breathing. Sadly, he had to be put to sleep to stop his suffering. Percy was found the next morning unable to stand on his front legs, with large swelling on his elbow and in a lot of pain. He didn't respond to intense vet care treatment so had to be put to sleep.
These horses were perfectly healthy before their fireworks incident.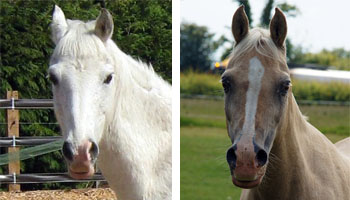 *
*
*
Eastbourne man jailed for neglecting 36 dogs keeping them in filthy conditions
Credit: RSPCA
A man has been jailed for neglecting 36 dogs, keeping them in filthy conditions in a property in Eastbourne.
Christopher Mark Bennett, of St Phillips Avenue, Eastbourne, was sentenced at Hastings Magistrates' Court on Monday August 22 after pleading guilty to causing unnecessary suffering to the animals.
The RSPCA was called to the property where they found several Yorkshire Terrier and Cavalier King Charles Spaniel dogs
The dogs were skinny with matted fur solid in faeces and living in filthy and extremely smelly conditions. One dog was found dead in the middle of the kitchen floor.
RSPCA Inspector Cora Peeters, said: "The property smelt very strongly of faeces and urine even through the mask I was wearing.
"When we opened the door, the noise level trebled and was quite unbearable.
"We were greeted by a sea of little faces all standing on top of each other in desperation to get to the door.
"The room was poorly lit but I could still tell a large number of these dogs were extremely underweight, their coats looked crusty and dreadlocked and the smell of urine and faeces was awful in the stuffy and airless room."
The RSPCA and police took the dogs away from the property.
Inspector Peeters added: "The dogs, on the whole, were friendly but nervous and were barking excitedly.
"The smell was overpowering and the conditions were extremely poor and filthy with slippery floors and dirty walls splattered with muddy dog prints. I saw no evidence of food or water, just two filthy metal bowls against a mud encrusted wall."
Bennett was sentenced to 18 weeks imprisonment and was disqualified from keeping all animals.
Gemma Brogan of St Phillips Avenue, Eastbourne, was sentenced to an 18 week prison sentence, suspended for 24 months after pleading guilty to similar charges. She was also banned from keeping all animals for five years.
The dogs, some who were pregnant and had puppies, were taken into the care of the RSPCA in Brighton, Kent and Surrey and were rehabilitated before being rehomed
https://www.itv.com/news/meridian/2022-09-06/skinny-dogs-with-matted-fur-covered-in-faeces-rescued-as-owner-jailed
*
*
*
Two charities have announced a new partnership they claim will protect affordable care provision for low-income pet owners and ensure rescued animals get help more quickly.
The initiative between PDSA and the RSPCA comes as the latter group reported a 24% increase in abandoned animals during the first seven months of this year alone.
The agreement affects RSPCA-affiliated owners in London, Birmingham, Manchester and Merthyr Tydfil.
No job losses
Officials said the agreement was drawn up following the RSPCA's decision to stop providing subsidised veterinary care, so it can focus its resources on helping the animals it rescues from cruelty or neglect.
The deal will see PDSA take over the running of the Finsbury Park Animal Hospital in North London, where it said it also plans to make "significant" investment.
Staff are currently being consulted on a transfer proposal and officials insist no job losses are planned.
Fee support
The groups said all current RSPCA-affiliated owners in Birmingham, plus most in Manchester, will be able to access services at PDSA Pet Hospitals from November.
Others, including those registered at Merthyr Tydfil, will be able to access a £1 million treatment fund and the charities insist they will both continue to offer fee support.
Richard Hooker, PDSA's director of veterinary services, said: "This partnership strengthens the strategic direction of both charities, enabling us both to expand our reach and benefit – and ensuring every pound donated works harder."
'Powerful partnership'
In its latest figures, the RSPCA said it had received 22,908 abandonment reports between January and July this year, up from 18,375 over the same period last year.
Chief executive Chris Sherwood said: "This is a powerful partnership which helps both people and animals at a time when our services are needed more than ever due to the cost of living crisis.
"By working together with PDSA, we can both focus on our strengths, our core charitable objectives, and ours is rescuing the thousands of animals most in need, those who have no one else."
It is also hoped that some PDSA hospitals will be able to treat some of the animals rescued by the RSPCA in the future.
*
*
*
WORCESTERSHIRE RSPCA RESCUE CENTRE SPEAKS OUT AFTER 'ENDLESS STREAM' OF ABANDONED PETS
RSPCA rescue centre busier than ever taking in nine cats and three rabbits in one day CREDIT: RSPCA
An RSPCA rescue centre says it is "drowning" in an "endless stream" of unwanted and abandoned pets.
The Holdings, in Kempsey, is run by the charity's Worcester and Mid-Worcestershire branch and fears that the current situation is only the "tip of the iceberg".
On Wednesday alone, the rescue facility welcomed nine abandoned cats and three rabbits – all in a "desperate" condition.
Centre volunteer Claire Wood said: "We fear this is the tip of the iceberg and that the coming weeks and months are going to bring more of the same, as the economic situation impacts pet owners, with many of them turning to charities to rehome their animals."
Black cat, Bingo, had a fractured leg when rescued from the Malvern Hills Credit: RSPCA
She continued: "Worryingly, we are also seeing the cost of living impact animal welfare in other ways; increasing numbers of cats coming into our centre haven't been neutered, so we're taking in pregnant young females, unwanted litters of kittens and injured males who are battered and bruised as a result of fighting and straying."
The self-funded rescue and rehoming centre spent £7500 last month (July) on treating sick and injured animals admitted from across the West Midlands. That's one-and-a-half times their usual monthly bill.
They are receiving daily streams of calls from people wanting to rehome their pets.
A new UK-based survey, published by the RSPCA, has revealed that more than 1 in 5 pet owners are worried about their ability to care for their animals.
Raspberry (right) and Ozzy (left) joined the centre in July after found in desperate state Credit: RSPCA
One of their rescues included an elderly male cat, Raspberry (pictured above), who was found collapsed in the middle of a road by an RSPCA officer in Tewkesbury.
After arriving weak, thin and in desperate need of dental care, Raspberry has received round-the-clock treatment and has recently been re-homed into a permanent foster care.
Other rescues in July include three elderly cats forgotten in a house after their owner passed away, a five-year-old homeless cat which was trapped and the mother of a litter of kittens, who had lost the use of her backlegs.
Every year the charity sees a rise in animals coming into its care.
In the first five months of 2022, it took in 49% more rabbits, 14% more cats and 3% more dogs than last year (2021).
https://www.itv.com/news/central/2022-08-18/rspca-rescue-centre-drowning-in-endless-stream-of-animals?fbclid=IwAR0zsyNdzmOmcBz0A4jCLAdAYsivknMOiYVg1sUrE103mdPDYb-eUgLSjic
*
*
*
DESPERATE PLEA ISSUED AFTER 20 PUPPIES DUMPED IN CRATE IN LAY-BY
The RSPCA has launched an investigation after 20 puppies were abandoned near Fryerning in Essex – it is believed they are from two or possibly more different litters
Inspector Sian Ridley and Animal Rescue Officer Enola Evans collected the pups and took them straight to a local vet for treatment.
One of the puppies was very weak and was being kept warm by a member of the public when the officers arrived.
The female pup was handed to Enola who kept her warm and safe on the journey to the vets – but sadly the puppy was too weak and vets made the difficult decision to put her to sleep to prevent her suffering further.
The surviving pups were all small and each weighed less than a bag of sugar – there were 14 males and five females
It is believed they are from two or possibly more separate litters.
Staff aren't yet sure what breed they are but it is thought that the slightly larger pups are possibly cockapoo or poodle crosses and the smaller ones are thought to be jackapoos.
There was a concern they may have contracted parvovirus – but early indications are that they are all clear. The pups were all in reasonable health and have been given fluids with glucose over the weekend.
Sian said: "When I was told how many puppies there were I actually thought there was a mistake – I couldn't believe that someone had abandoned 20 puppies
"They were all quite scared and timid when we arrived and it was just heartbreaking to see them all huddled in the one cage – they looked a pitiful sight.
"I want to say a huge thank you to all the passersby who stayed to help these pups and also to the vets who were able to take on the care of pups over a weekend at such short notice.
"It is difficult to know where these have come from. It could have been a I suspect that these may be a puppy farm but they were friendly, clean and did not have fleas so they may not have been kept in a shed without human contact.
"It is also unusual that such a large number of the pups are male and I wonder if that was the reason they had been abandoned, because they wouldn't be useful for breeding or are harder to sell on.
We were concerned they may have had parvo and that this was the reason they had been abandoned but that's not the case and apart from some having worms they all appear to be quite healthy.
"I'm keen to hear from anyone who may know who is responsible for abandoning these puppies in such an irresponsible way.
They were so young and vulnerable, it is likely that someone just drove up in the layby, got them out of the car and then just left them – so I am keen to speak to anyone who may have seen a suspicious vehicle in the area on Friday.
"Times are tough at the moment, but abandoning tiny puppies like this is so irresponsible and cruel. Please, please never abandon your pet but ask for help before things get so desperate.
The pups are believed to be aged between six and eight weeks have been named alphabetically and are called: Albert, Boris, Casper, Dylon, Elenor, Freddie, Guinever, Hank, Irene, Jeremiah, Kaleb Luna, Morris, Nevel, Oliver, Peter Quinton, Rupert, Saffron
Anyone who saw anything suspicious in the area or has any information that could assist the RSPCA's investigation should contact the charity's appeal line, confidentially, on 0300 123 8018.
Many of the pups have already been offered homes by the dedicated staff at the vets who are caring for them and all are currently in foster care.
Please do not call any centres at the moment regarding rehoming as the pups will still need some additional care and you could stop an emergency call from getting through.
https://www.mirror.co.uk/news/uk-news/desperate-plea-issued-after-20-27659261?fs=e&s=cl#l6figy4zofn3wxsrosf
*
*
*
PROSECUTION | Chantell Duvall-Gregory, 20, and Christy Karl Hewitt, 21, both of #Aigburth, Liverpool L17 – accused of animal cruelty after a dog was found dead in a suitcase on the banks of the River Mersey.
The pair are alleged to have beaten and abused their dog Snoop over an eight month period at the home they shared on Windfield Green in Garston. Liverpool L19.
Liverpool Magistrates' Court heard yesterday that Snoop, a Malinois or Belgian Shepherd, also didn't have an adequate diet and that the couple allegedly failed to take him to a vet despite him needing treatment.
The RSPCA initially launched an appeal for information in January 2022 after a dog's body was found locked inside a padlocked pink suitcase on the banks of the river in Speke and Garston Nature Reserve.
RSPCA Inspector Anthony Joynes said at the time that he was treating the death as suspicious because he "had blood loss from his nose and mouth suggesting a blunt force trauma incident to the head."
Inspector Joynes added: "The fact the body was put in a suitcase which was padlocked and thrown into the river is also suspicious.
Duvall-Gregory and Hewitt were later charged with three offences each of causing unnecessary suffering to a protected animal between April 1, 2021 and December 22, 2021. Both were also charged with one count of breaching their duties as people responsible for ensuring the welfare of an animal. All charges relate to Snoop.
They were both granted conditional bail. The pair are set to stand trial at Sefton Magistrates' Court in November 2022.
https://www.facebook.com/107357764305723/posts/pfbid02B1zNmbw2Buw87qjtXLE6JZ9fyJCA81kLwKgxLRVx3q1Ag8mUL31891zx77iuPkKfl/?d=n
*
*
*
NORTHWEST SPCA
Two and a half years ago, this pup, at 5 months old, was stolen – literally ripped from his owners arms… and last week he came into the shelter as a stray.
His owner has been looking for him this whole time, and when she saw him, she knew this was her baby… the heart on his nose was a dead giveaway. He was so excited to see her and was full of whines and wiggles.
Reunited and it feels so good! We love these happy endings!!
#reunited #puppylove #truelove #love&loyalty #NeverGiveUpHope
*
*
*
East Yorkshire RSPCA
RSPCA APPEAL | #Beverley, East Yorkshire: RSPCA would like to speak to white flatbed truck drivers "Nick" and "Bozzer" after a greyhound is found dead in a water course with a sandbag tied around her.
The dog was recovered from Beverley Beck on the morning of Saturday, June 18. Her body was spotted on the surface of the canal with the sandbag attached to her neck by a length of rope.
She was recovered from the water by a local animal volunteer, who had been alerted by a social media post found in a missing pets Facebook page.
The cause of death has not yet been established and it is not known how long the dog, who was microchipped, was in the water for.
The area the dog was found is a popular angling spot and the RSPCA has been appealing for anyone who may have seen people acting suspiciously near Waterside Road.
They are keen to hear from anyone who may have information from the evening of Friday, June 17. The animal charity is also trying to locate two local men, who may hold vital information that could help the investigation.
RSPCA Inspector Tom Hutton said: "Sadly, this greyhound was found in Beverley Beck and our investigation into her ownership suggests she has been passed from pillar to post.
"She was initially rehomed by her owner, but the person who took her on decided he didn't want her and gave her up to two people in a nearby village. The next thing we know is she is dead in the canal.
"Hopefully, someone may have seen something in the area. The dog's body was found at the point where the canal flows past the last lock in Beverley.
"CCTV footage of the area doesn't cover this spot, so it looks like the people who took her there knew they were not going to be seen, particularly if they did it during the hours of darkness."
The greyhound was around three years old at the time of her death. She was grey with a white underbelly and brown eyes. She weighed around 28kg and her whelping date is known as July 9, 2019.
The two men the RSPCA believes can help with its enquiries have been seen driving a white flatbed van and locally it is believed they are known as "Nick" and "Bozza".
Anyone with any information is asked to contact the RSPCA appeals line on 0300 123 8018.
*
*
*
CONVICTED | Leeann Baird, 31, from #Kincardine, Fife FK10- banned from owning animals for ONE YEAR after she allowed her dog to become emaciated and malnourished
Baird pleaded guilty to failing to provide adequate nutrition or veterinary treatment for a seven-year-old whippet named Preston.
Scottish SPCA officers visited Baird's home on April 23, 2021, after receiving reports of a neglected dog at the property. Another person answered the door and initially denied having any dogs at the time.
However Preston was found inside in an emaciated condition and overgrown nails. His coat was dry and flaky.
Animal welfare officers seized the dog and took him to a vet where it was found that he weighed just 10.7kg. He ate ravenously when offered food. .
It was estimated he had been caused unnecessary suffering for at least 28 days but most likely longer, through malnutrition. Blood tests revealed there were no underlying health conditions that could have caused this.
Baird claimed she had considered seeking treatment for Preston but could not afford it.
Scottish SPCA inspector Mairi Wright said: "We are pleased that Baird was handed a £200 fine and ban.
"Baird was responsible for the welfare of Preston and sadly his needs were not met.
"We understand that veterinary costs can become a worry, but ignoring Preston's condition was not the way to handle the situation and caused him an unnecessary amount of suffering.
"We are glad that Preston finally received the treatment he needed and is now in a loving home getting the care he deserves."
Sentencing | £200 fine and a woeful one-year ban.
*
*
*
RSPCA disappointment by puppy trading and overworked horses at Appleby
15.06.22
The RSPCA was called to assist with a number of animal welfare concerns at Appleby Horse Fair last weekend, including incidents involving horses, dogs and chickens.
The team of RSPCA inspectors and welfare officers, most of whom have attended the event for many years, dealt with 184 animal welfare incidents over the four-day event in Cumbria. Examples of some of the incidents include issuing eight warnings to owners of horses that were not fit to work due to exhaustion or injury as well as some who were just too young, and a warning notice to the owner of a dog that was suffering from heat stroke.
The team was on-hand to offer welfare advice, support and education for the hundreds of horses brought to the fair, working with equine charities British Horse Society, Blue Cross, Bransby Horses, The Donkey Sanctuary, Oak Tree Animals Redwings Horse Sanctuary and World Horse Welfare – as well as a group of vets.
RSPCA Chief Inspector Beth Clements said:
Sadly we were called to deal with several animal welfare concerns at Appleby, involving injuries on some of the horses, mishandling and even beating of some horses, some tangled in tack or rope, and overriding or overdriving horses who were then exhausted.
It's a real shame that each year a few horse owners and riders let the whole fair down. During the four-day event, we treated a large number of horses brought to us by their owners for advice or medical care for minor injuries or issues.
However, police also seized seven horses, eight puppies and three chickens following welfare concerns, and placed them into our care. We'll be looking into these situations further now and are investigating two cases that may lead to a prosecution.
Two stray dogs were brought to us and have now been taken in by the local dog warden, and we were even called about two fledgling owlets who were found in a nearby village.
The annual gathering of Gypsy, Roma and Traveller communities in the town of Appleby in Cumbria typically sees up to 40,000 visitors across the four-day event.
The fair has been in existence for 300 years or more and is the largest horse fair in Britain and amongst the oldest in Europe.
In October 2007, the Multi-Agency Strategic Co-ordinating Group (MASCG) was set up to bring together and co-ordinate the work of the key public agencies that have a regulatory role at the fair.
The MASCG consists of representatives from the Gypsy and traveller community, Eden District Council, Cumbria Constabulary, Cumbria County Council, Cumbria Fire and Rescue Service, Cumbria NHS, North West Ambulance Service, RSPCA, Environment Agency, South Lakeland District Council, Highways Agency and HMRC. The objective is to make the fair a safer and more enjoyable event for residents, Gypsies and travellers and visitors.
*
*
*
ITV NEWS
PUPPIES FOUND DEAD IN FREEZER AS RSPCA INVESTIGATES £850k DOG SELLING FRAUD IN ESSEX
Puppies were "found dead in a freezer" during an investigation into an £850,000 dog-selling fraud, a court was told.
RSPCA investigators who searched two addresses linked to the gang found other young dogs infected with viruses, and discovered animals advertised as "home bred" had been bought in with doctored vaccination details.
Their inquiries revealed that the unlicensed gang in Essex had advertised more than 500 high-value puppies for sale during a 16-month period, with many buyers reporting that the animals died a short time after purchase from infections.
At Basildon Crown Court, four members of the gang pleaded guilty to offences related to the fraudulent sale of puppies, and will be sentenced later this summer.
Stacey Hayward, 41, of Colliford Road, West Thurrock, pleaded guilty to fraud;

Steven Foster, 42, of Colliford Road, West Thurrock, admitted acquiring criminal property;

Kelly Bennett, 43, of Weymouth Drive, Chafford Hundred, pleaded guilty to fraud;

Ricky Bennett, 41, of Weymouth Drive, Chafford Hundred, admitted acquiring criminal property.
Kelly Bennett also indicated guilty pleas for two offences under the Animal Welfare Act while Ricky Bennett indicated a guilty plea to one animal welfare offence.
Complaints over sick puppies
An investigation was launched by the RSPCA and the local authority after members of the public complained about puppies they had bought from addresses in Billericay, Grays and Thurrock.
The charity's special operations unit (SOU), which investigates serious, organised and commercial animal cruelty – such as the high-value trade in puppies – started looking at premises in Crays Hill in Billericay, in 2019, after complaints from members of the public.
Hazel Stevens, prosecuting for the RSPCA, said: "Members of the public had made complaints to the local authority and the RSPCA about puppies being purchased from said premises – which soon became ill after sale.
"Twelve witness statements were taken in relation to puppies with health problems which were sold from the Billericay address between June and September 2019, and one in March 2019.
Some of those accounts from families who lost their puppies to illness were read to the courts.
One family said they had bought a puppy named Mabel from Hayward in Billericay in July 2019, only to see her succumb with parvovirus days later.The family said in a statement read to the court: "When I saw her she was lifeless. It will be an image I will never get out of my head. I said to the vets that it was best to put her to sleep."
Some of those accounts from families who lost their puppies to illness were read to the courts.
Some of those accounts from families who lost their puppies to illness were read to the courts.
One family said they had bought a puppy named Mabel from Hayward in Billericay in July 2019, only to see her succumb with parvovirus days later.The family said in a statement read to the court: "When I saw her she was lifeless. It will be an image I will never get out of my head. I said to the vets that it was best to put her to sleep."
Breeding and sales licence revoked
The court was also told that Basildon Council had licensed Stacey Hayward to sell puppies but the licence was revoked in July 2018 due to complaints about sick puppies, while her breeding licence had run out in December 2018.
Hayward and her partner Steven Foster moved to a new home and, in October 2019, complaints began coming into the RSPCA related to an address in Weymouth Drive, where Kelly and Ricky Bennett lived. An RSPCA officer visited in August 2019 to speak to them about licensing but no licence was ever issued for the address, the court was told.
Weymouth Drive was linked to an address in Colliford Road via a witness and was confirmed as Hayward and Foster's new home.
Both sellers were advertising puppies who were described as being "bred at home" but several puppies appeared to have been sourced from Wales, with Welsh vaccination cards containing details cut out or erased.
Prosecutor Ms Stevens added: "In addition, adverts were placed on the selling sites with various names and numbers. Visitors to the Hayward address were still shown her licence documents despite its revocation."Search warrants were executed at both properties and puppies were found to be present at both with some adult dogs. Dead puppies were also found at both properties in the freezer (two at Weymouth and one at Colliford)."
She said seizures of paperwork and phones showed the link between the two addresses.
Sales operation 'worth £850,000'
Nine puppies were found living in a shed at the rear of the garden at Colliford Road, and were taken into care.
One later died of parvovirus but the others, who were suffering from Giardia – a small parasite that attacks the intestines – and other health problems, made full recoveries and were rehomed.
At Weymouth Drive, officers found three adult spaniels, five cocker spaniel puppies with Giardia and and two dead spaniel puppies which "appeared to have been dead for days", the prosecutor said.
RSPCA officers worked closely with the Eastern Region Special Operations Unit's financial investigator who analysed financial records linked to the sellers and attributed about £850,000 of income linked to the sale of puppies.
Seized phones were analysed and showed many messages responding to adverts for puppies, using different names.Bank statements showed payments with the reference "puppy".
Messages showed that both Hayward and Kelly Bennett were sourcing puppies on a regular basis and placing adverts online using fake names and details, and claiming the puppies had been bred and reared in a family home.
Messages on the phones also showed that Ricky Bennett had taken payments for the puppies, while witnesses had paid money into Foster's bank account for puppies too.RSPCA officers analysed the adverts and estimated that at least 100 adverts had been placed, advertising around 500 puppies, between December 2018 and March 2020, across Gumtree, Preloved and Pets4homes.
The court heard that the selling of puppies continued throughout lockdown, until May 2021.
All four will be sentenced at Basildon Crown Court on August 12
*
*
*
CONVICTED Kenneth Thomas , 58, and partner Denise Warner, 48, of Perthcelyn, Mountain Ash, South Wales – kept two malnourished dogs outside in freezing conditions.
RSPCA inspector Gemma Cooper said she attended Hazel Terrace on 8 December 2021 and could see the two dogs, Sheba and Vinnie, in the back garden. They had no shelter and were shivering.
Inspector Cooper spoke with the defendants and explained that the dogs were in very poor body condition and that they needed to go to the vets.
Thomas and Warner agreed to transfer the ownership of Sheba to the RSPCA but refused permission for Vinnie to be taken.
Inspector Cooper said: "As I walked back down to the rear of the garden, Sheba was still outside all hunched up, although they had let Vinnie inside out of the cold.
"When she did walk she appeared weak and had little muscle coverage over her back end. I could see every rib and every vertebrae along her spine.
"I placed a lead over Sheba and she refused to walk so I bent down to pick her up. As I carried her to the van I could feel her still shivering and as I placed her in my van I provided her with a hot water bottle which she immediately curled up around."
Sheba was taken to a vet who said she was suffering due to lack of food – there was no food in her stomach and she had no muscle.
Inspector Cooper later returned to Hazel Terrace with police, when officers seized Vinnie.
Vinnie was examined by a veterinary surgeon who stated that he was very underweight but had slightly more muscle mass to him than Sheba. He also had a skin condition probably caused by parasites.
Both dogs were taken to RSPCA's clinic in Merthyr Tydfil where they were given parasite treatment.
Ownership of Vinnie has been transferred to the RSPCA, and he will now be rehomed. Sheba has already been successfully rehomed.
Sentencing | ordered to pay a total of £634 each. Disqualified from keeping dogs for five years
*
*
*
CONVICTED | badger baiter Wayne Mortimer, 47, from Mountain Ash, Rhondda Cynon Taf, South Wales – failed to take his two seriously injured dogs to the vet.
RSPCA inspector Simon Evans, accompanied by police officers, visited Mortimer's home on 25 November 2021 following welfare concerns for his dogs.
They found five Patterdale terriers and a lurcher puppy living in purpose-built steel kennels in a shed in the garden, with one of the dogs visibly injured.
In his evidence to the court, Inspector Evans said: "I saw a small, black, Patterdale type terrier with a white patch on its chest. This terrier appeared to have an injury to its lower jaw and the wound looked to be yellow with pus.
"I looked inside and examined the injured dog more closely. The wound was extensive, covering the whole area beneath the dog's chin reaching down to the throat.
"It had been completely stripped of skin and hair and was red raw and covered in sawdust shavings, making it look yellow. One of the other Patterdale terriers also had an injury to its lower lip and this too looked raw."
Both dogs were seized by police and taken immediately for veterinary treatment by the RSPCA.
Both dogs had healed scars on the head and neck in multiple areas and additional scrapes and wounds which were only a few days old.
When Mortimer was interviewed by Inspector Evans on 6 December he told the officer the injuries had been caused by the dogs fighting.
He said he'd treated the wounds himself using disinfectant and antibiotics purchased off the internet but had been too frightened to take them to a vet as he was worried he might be suspected of using them to bait badgers.
He also told the inspector that the injury to Race had occurred about 12 months earlier following another fight with Jack, and the historic scarring to the dog's face was as a result of bolting foxes on land controlled by a gamekeeper friend.
An independent veterinary expert said he believed the injuries were likely to have been caused by the powerful bite of a badger, which would have held the terriers in a "vice-like grip."
He said: "The chin injuries sustained by the dogs are not consistent with having been caused by fighting with each other when taking into account the severity of the facial tissue damage and tissue loss.
"It is highly likely that these injuries were caused as a consequence of them fighting with a badger."
Jack and Race are doing well in RSPCA care and the charity is looking for new homes for them. The other dogs seen at Mortimer's property have since been rehomed.
Sentencing | 12-week prison sentence, suspended for 18 months. 40 hours of unpaid work; a total of £528 in costs and charges. Banned from keeping dogs for ten years but may appeal after five years.
*
*
*
CONVICTED | Dave Herring, 53, from #Sudbury, Suffolk – kicked a hedgehog with 'considerable force'
Herring admitted causing unnecessary suffering to the hedgehog, by kicking the animal.
The incident was caught on camera and the footage was passed on to the RSPCA to investigate.
The video showed a man walking towards a house and putting something down in the porch area. He was then seen pulling the hedgehog from the porch area with his foot, and kicking it down the road.
Speaking after the case RSPCA Inspector Caroline Richardson, said: "Having reviewed video footage it was clear the hedgehog was kicked with considerable force.
"The final kick can clearly be heard on the camera footage.
"The hedgehog rolls at speed several metres, out of sight.
"An expert vet who examined the footage said the hedgehog would have suffered unnecessarily during this time and the suffering would have extended beyond the time of the kicking if an injury was caused.
"They believed the suffering caused was due to pain and fear.
"This was an incident which showed a clear disregard for a wild animal."
Sentencing | fined £277 and ordered to pay £300 costs and a victim surcharge Of £34
*
*
*
RSPCA appeal for information after dead puppies found in Carlisle
The RSPCA is investigating after two dead puppies with severe head injuries were found dumped at the side of a river in the Carlisle area.
The spaniel puppies, aged about eight-10 weeks, were found near North View Cottage, Beaumont, by a member of the public who reported the matter to the RSPCA on Sunday, April 3.
Inspector Maryn Fletcher is now investigating and said the puppies – one black and one white – appeared to have suffered injuries consistent with them both being hit on the head with an instrument before they were dumped
He said: "Both puppies had wounds which suggest they had been hit over the head and suffered severe skull injuries and had heavy bleeding around their head and mouth.
"One of the puppies had a skin condition and the other had a bloated stomach. I believe they have come from a litter bred by an unscrupulous dealer who realised they had health issues and they were not prepared to pay for any treatment for them so decided to dispose of them in this horrific way.
"I am very keen to find the person who owned the puppies – who were not microchipped – and I am hoping someone may know who they belonged to.
"I also want to hear from anyone who may have seen anything suspicious in the area prior to the puppies being found at about 4pm."
He added that a Black Ford van with red wheels had been seen in the area around this time and would like to trace the driver who may hold vital information.
He is also asking for motorists in the area to check their dash cam footage.
Anyone with information is asked to call the RSPCA appeals line on 0300 123 8018
The RSPCA works with local trading standards departments across the country to tackle the problem caused by unscrupulous puppy breeders and is calling on members of the public to do their research before buying a puppy